Leaflets, leaflets, get yer leaflets ere 0
---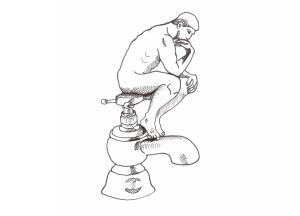 Went out delivering leaflets for the book launch yesterday. Couple of hours of so starting down the right hand side of Lee Road then wending my way round the houses until I finished up at the Burton Road Chippy where Lesley very kindly treated me to an ice filled glass of Diet Coke.
My leaflet delivering methods are not very scientific. If I didn't feel like delivering to a particular house I didn't.  This would be the case, for example, if the gate was closed and it was a long walk to the front door in front of plate glass windows.
I wasn't bothered about getting every house. I didn't have enough leaflets for the whole of Lincoln anyway and as long as I got some out there I was happy. I only delivered to one side of Lee Road. Having to cross back and forth would not have been efficient.
Delivering the leaflets was a bit of a learning experience. It made me sympathise with postmen. Putting your letterbox at ankle height is most unfriendly. Also not all letterboxes are easy to get things through, especially those with brushes designed to keep out draughts. Trying to shove a leaflet through the letterbox of a terrace house when you know that there is someone sitting in the room just the other side of the door calls for mental strength, resolution, especially when you know they haven't asked for the leaflet.
Quite a number of letterboxes had notes taped to them asking people not to deliver things. These ranged from "no free newspapers" to a whole list of proscribed items: "no junk mail, no menus, no charity bags, no canvassers". My leaflet was of course a beautifully designed piece of art that no one could ever describe as junk mail but I let that house go. They didn't seem to be the sort of people who would want to come to the book launch anyway.
I came across the occasional dog. At one house a ferocious Alsation tore the leaflet to shreds the moment I put it through the door. Wondered what the owners did to get readable mail. Maybe no one sends them letters anyway.
The terrace houses between Newport and Burton Road were conveniently close together for effective leaflet distribution. Unfortunately for the residents this was known to the local takeaway restaurants who must make a habit of spamming the area. One house specifically requested no takeaway menus.
After a couple of hours I ended up with Lesley and unfortunately the break took away my enthusiasm to deliver any more. It didn't matter. As I said I didn't have a specific target. Popped in to Clearview Opticians to order some more contact lenses from Annabel and set off for home.
Outside the Coop I bumped in to Andrew Walton from the office who put the idea of beer in my head. I was already  going to the rugby club for the afternoon to wath the last ever home game of Lincoln RFC at the Lindum ground. They are moving to Nettleham next season. On that basis I figured a beer at the Strugglers would be fine so I popped in there for a pint of Landlord. I also popped into the Morning Star for another so it took me a little while to get home but I figured I deserved it.
I reckon I still have around 400 leaflets left to get rid of which may or may not happen. That's OK.  The counter on philosopherontap.com shows there are 17 days to go and I'm pretty confident of getting a good turn out for the launch.
That's enough of an update. Ciao.