3rd Law Part 34 – the mountain and the artificial leg 0
---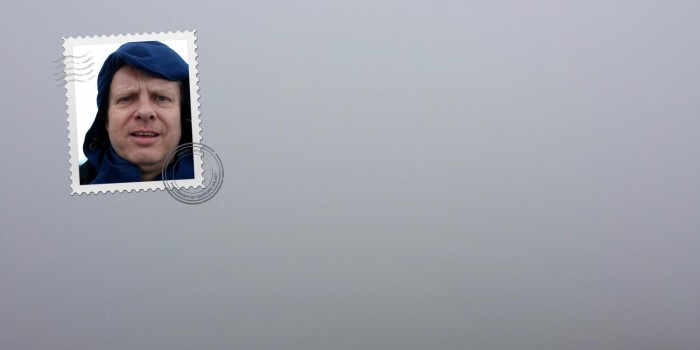 When I was around 11 years old I climbed Snowdon. I recall it to be a significant effort. Are we nearly there yet? I remember we stopped at the Halfway House and drank "real lemonade" which at the time was something special, a rarity. I climbed it again whilst a student, up the Crib Goch route. We passed a plaque dedicated to the memory of someone who had fallen from a certain point and plunged to his death. I went with Gwyn Roberts on that occasion, a fellow engineering student who nowadays is a team leader for the Snowdon Mountain Rescue.
Later after I had finished my three years of study I went climbing with another pal, Rhys. We caught the bus from Caernarfon to Llanberis. The plan was to spend a week walking and camping in Snowdonia. Arriving on Sunday afternoon we camped in a field opposite the Vaynol Arms and spent the night getting totally plastered in the pub. The next morning we woke up with hangovers and the weather had changed. It was chucking it down.  The tent was soaking and we had little inclination to do much. However we were here to walk so we packed up the kit and set off up the miners track to the summit of Snowdon with a view to deciding where to end up for the night when we got to the top. When we got there we wimped out, walked down the railway line to Llanberis, caught the bus to Bangor and spent the rest of the week drinking in the Globe.
I may have been up the mountain one other time but I'm not sure. The last attempt was with Mossy and Jeremy during one of our boys winter trips to Llanberis to stay at the  Victoria Hotel. They used to do 3 nights bed, breakfast and evening meal for £87.50 provided you stayed before the end of March. An unbelievable deal. We would put together a party of golfers and spend Thursday to Sunday enjoying the pleasures of the area. Some golf was played though not that much.
It was a great deal and I remember on our first visit we stayed in the hotel bar singing until the wee small hours. When I was checking out the next day there was some old chap in front of me asking to see the manager and demanding a refund because of the noise from the bar. A bit rich I thought considering he had only paid £29 a night.
One of those trips instead of playing golf, Jeremy, Mossy and I decided to ascend Everest Snowdon. It might as well have been Everest. We parked at the car park in Pen y Pass and set off. Unfortunately by the time we got to the really challenging steep bit the snow and ice made further progress impossible. Being sensible mountaineers we cut our losses and returned to the safety of the hotel. We were satisfied enough. We had photos of us in the snow kitted up with all the right gear.
So this weekend Anne and I returned to Llanberis and another assault on Snowdon. However seeing as thirty years had passed since my last successful attempt and not wanting to be too knackered for the 50th birthday party that was our reason for being in the area I booked the train several weeks before arriving. The plan was to train it up and walk down.
This was to some extent an admission of defeat. An acceptance that the body was no longer as hard as it once was. Obviously this is not a permanent situation. What once was hard will be hard again. However on this occasion there was insufficient time, and perhaps willpower to undertake the full hardening process so common sense prevailed and the tickets were booked.
As it happens the train turned out to the only serious option as I had sprained my foot the previous weekend whilst in London for the Premiership Rugby final. Intensive therapy (ie a bit of deep heat) during the week brought the foot to a condition where walking was possible though in an ideal world I'd have given it a bit more recovery time.
We were in Llanberis for friend Stephanie's 50th birthday celebrations. 35 of us crammed into a bunk house. This in itself gave me cause for an eyebrow raise 😉 I don't know if I've mentioned it but I am a terrible snorer. Over the years Anne has worked out a strategy to cope because I only snore when I'm lying on my back so when the need arises she just pushes me on to my side and hey presto, snoring stops.
Unfortunately in a room with 8 bunks and 7 other blokes you don't really know, the simple push over to the side is not going to be practical. That first night I snored for Wales. The others had tried to wake me up but not a hope. In the morning two of the bunk beds were empty, their occupants having decamped to the living room.
In fact I only woke up because at 6.25am someone's alarm went off. They had lost their phone the previous evening but now found it deep inside the tubular steel frame of the bunk bed. It had fallen down inside and any attempts to call it to find it had been fruitless because there is no mobile phone signal inside a tubular steel pipe.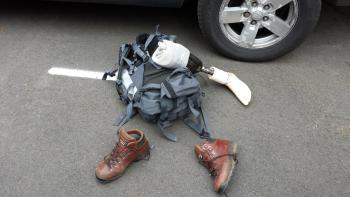 At 6.25 therefore the main walking party arose and shortly afterwards set off for Snowdon leaving me with Pete Sherlock's artificial leg to bring up on the train. Pete had two artificial legs. One was suitable for an ascent and the other for a descent. I was to take the "descent" limb up in my rucksack and do a swap at the summit.
The artificial leg sticking deliberately out of my rucksack attracted a few curious glances and eventually someone did ask for an explanation which they duly received.
It took an hour for the train to get to the top and we found that the walkers, fair play to them, had already arrived. The summit was covered in cloud which unfortunately meant that there was no view. The temperature was also substantially lower than it had been below cloud level and we had to wrap up.
Pete decided that it made more sense to train it down and took my seat, not booked for the return leg (no pun intended) when the time came to go.
The walk down took me ages, having as I said injured my foot on the rugby weekend. We passed literally hundreds of people on their way up. As mountain climbs go it is almost the equivalent of a motorway. There were plenty of people either clearly not going to make it to the top due to complete exhaustion or who were totally inadequately prepared for what lay ahead. The woman in a pair of espadrilles for example or the two very pleasant girls who were on their way up in shoulderless tops.
I was also passed by an old bloke running up the mountain who a short time later came past me again on his way down. It put me to shame. At one point I saw a domestic row unfurl before me in real time. The wife sat down and decided she could go no further. The two daughters stood around waiting whilst the husband had a go at her and in a tantrum turned around and headed back down.
It was disappointing to see the occasional bit of litter on the way down. Plastic bottle tops, bits of paper. I imagine that this was down to the sheer volume of people rather than the lack of care for the mountainside. With so many people it is going to be inevitable that things got dropped unnoticed, or by small children.
It was a tough bone jarring five and a half miles down the hill. Llyn Padarn, a long time visible in the distance, gradually grew larger. As I approached the foothills the landscape changed. There were trees, albeit stunted, and a few houses started to appear. Finally I made it to the tarmac surface of the road and down into Llanberis and basecamp. I just had time for a quick shower before the second day of celebrations began.
Two days later my lower body is still stiff. I'd like to think I will one day make it to the top again without the artificial assistance of the train. We shall see. I doubt it will ever involve carrying an artificial leg though.
3rd Law Part 33 here
3rd Law Part 35 here