sitting 0
---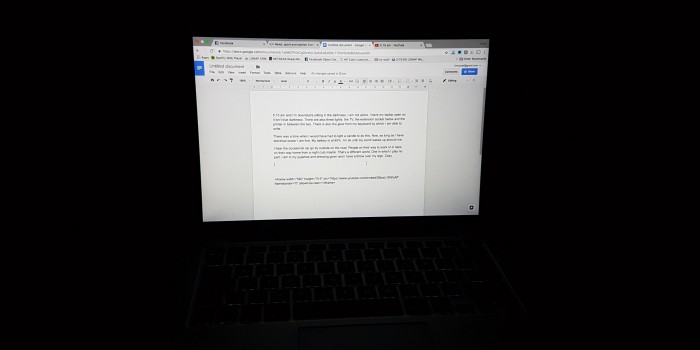 alone in the darkness
5:15 am and I'm downstairs sitting in the darkness. I am not alone. I have my laptop open so it isn't true darkness. There are also three lights: the TV, the extension socket below and the printer in between the two. There is also the glow from my keyboard by which I am able to write.
There was a time when I would have had to light a candle to do this. Sharpen my quill. Now, as long as I have electrical power I am fine. My battery is at 65%. I'm ok until my world wakes up around me. I'll plug in later.
I hear the occasional car go by outside on the road. People on their way to work or in taxis on their way home from a night club maybe. That's a different world. One in which I play no part. I am in my pyjamas and dressing gown and I have a throw over my legs. Cosy.
Upstairs Anne has stirred, momentarily. I probably woke her up coming downstairs. I'm sorry about that. She deserves a good sleep. In an hour or so I'll take her a pot of tea. I like doing that. She does a lot for the rest of us, often without thanks. A pot of tea is the least I can do.
For now you just have me and my thoughts. We are never in total darkness nowadays. It would be good to experience that. I'd have to switch off the bedside radio. Our curtains are fairly heavy and dark so not too much light would get in.
Leave the phone switched off or downstairs. There is very rarely a night where I don't wake up and look at my phone. Not good. Perhaps I should get into the habit of switching it off for periods of the day and certainly overnight. Why not? It's on Do Not Disturb between 10pm and 8am as it is.
I've just discovered another LED. It's the DECT phone over my left shoulder. These lights do serve a purpose but I could manage without them. There are lots of things I could manage without. It wouldn't do me harm to try it for a while. Live life simply.
Simply doesn't necessarily mean frugally. I'm a strong believer in having the good things in life. Good food. This could mean walking everywhere. Simply probably means no TV. I wouldn't deny myself the internet or my laptop. Maybe the phone would be in a drawer for periods of the day.
I think a week of that beckons. When I get back from my next lot of travels. I have Madrid and Krakow upcoming in the periscope. After that nothing.
05:47 and the milkman has just been. 4 pints Monday, Wednesday and Friday. We used to have a lot more when all the kids were home. 4 or 5 pints a day. We still occasionally top up with additional milk from Tesco. Now I'm really the only milk drinker. Anne has it in teas and coffees and a minimal amount with her cereal. When I was a student I'd drink three pints of milk a day – breakfast lunch and dinner.
We have five more years of having a student in the family. Joe is at Newcastle and John is in the lower 6th. Not sure they still call it that but it matters not. I know what I'm saying. There is  a scenario where nobody else ever reads this so it really doesn't matter. Dunno what made me come out with that student sentence. I guess it was the reference to the kids being home.
I wouldn't want them all home now. They need to stretch their wings which they are doing in all fairness to them. It's very exciting as a parent to see it happen. Very satisfying. They are all great kids:) John came down and sat a while with me on the settee last night.
Next week Anne and I are having a night out with Tom and Hannah in London. They've booked us a table at some speakeasy type place where you have to know the password to get in. The password isn't a secret. That wouldn't make for much of a business. Suspect we will go for a curry afterwards. I still have a 10% discount card for the Delhi Brasserie next to Ronnie Scotts. Will be my last real meal for 9 days. No offence to Spanish food of course.
We will have at least 3 of them at home for the Christmas Market and then a full set for Christmas itself. Good times.
…
swim followed by Fruit & Fibre with added banana, peach and blueberries – see 2nd vid below.