the leaves keep coming 0
---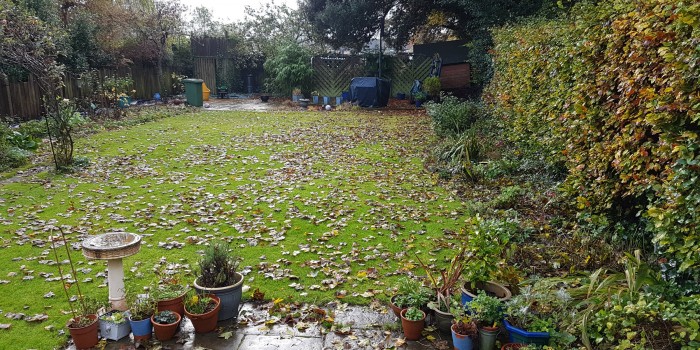 inexorable tide
Down to a very pleasantly autumnal conservatory. It is cold out but the Dyson heater is on and the room should soon be comfortable. Breakfast was a particularly magnificent two slices of white toast using my home made bread from last night. See this previous post on toast🙂
The leaves are piling up outside. Anne will have the bit between her teeth later. Today I have a couple of specific jobs. One is to sort out the insurance for Anne's new car. The other is the VAT. VAT is quick and easy. The new car insurance will be a bind – it is never quick and easy to do car insurance. Also want to nip to GoOutdoors to look at new insoles for my walking boots and I need some more toothpaste – Sensodyne. It's an age thing. Dad has also asked me to sort out the insurance on his Micra.
The news this morning is that the death toll from the Croydon tram accident has risen to 7. The tram driver has been arrested and they are trying to establish why the tram was travelling too quickly.
Today we have John's parents evening. His first in the sixth form. Will find out how he is doing. The we are off to see Erv in a concert at the minster school before he heads off on a tour of China. Exciting for him.
My tea will have brewed…
…
Bumped into Adie Smith at GoOutdoors. He was buying stuff for one of his kids and I was buying new insoles for my boots. We are off walking tomorrow morning. Somewhere in the Wolds. Looking forward to it. Weather is going to be ok if somewhat colder than the Coast to Coast but I have the gear I think. It isn't going to be a slog so should be fine.
Spent half the day sorting out insurance for Anne's new car. Peugeot 107. It's a nightmare trying to do this kind of thing. There are so many variables. For one I need an insurer that will accept 17 year old learners. The other thing is that learner wants to go on in February when he turns 17 but we need the insurance for tomorrow. So you have to find an insurer that will accept 17 year olds but allow me to add him to the policy in 4 months time.
Ended up with Lloyds Bank. It will do. The car is cheap to insure and has no road tax. Bit of a difference from my old 3 litre jeep Commander where the combination of insurance and tax was north of £1k.
…
Good parents evening at school. I won't elaborate but John knows how it went. Picked the lad up from sax lesson en route home and had beans on toast for tea. Have had to make another loaf this evening. Dough is rising near the radiator. It's an endorsement. My green jumper is now somewhat clogged with flour though. Sleeve got it full on. Adds a bit of character innit. Now having a five mins sit down before we head out for Erv's gig.