Harris Tweed 0
---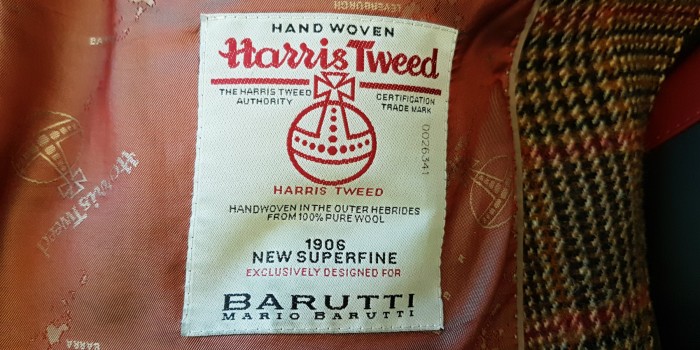 keeps you warm in winter
A bleary Wednesday morning and the train is trundling through dull waterlogged November fields. I was initially going to use the word hurtling instead of trundling but that's not what it feels like.  A steady pace which is just too fast for the bloke out front with a red flag to keep up with. Outside, horses wear coats and inside I have my Harris Tweed jacket to keep me warm. Perfect for winter and obvious to me why the garment is worn by the good crofters of Harris.
There is a reason why the train is slow between Lincoln and Newark, being charitable. We are currently stopped on platform 3 in Newark waiting. It is ever thus. They allocate too long for that leg of the journey, presumably to allow other mainline trains through. This service takes just under two hours Lincoln to London Kings Cross but it could be quicker without the,  waiting. Note comma inserted there to slow down your progress through the sentence.
As we steam south the big landscape is barren with poor visibility through the early morning mist. It almost doesn't matter. The only thing to see is big field after big field, devoid of growth and with the occasional stack of round straw bales ready for collection. These round bales don't have the romance of the old rectangular ones but are presumably quicker and easier for a machine to put together. What price old haycarts eh?
Today I am in London for a working lunch. There is wine involved and later a meeting in a pub in the London Bridge area. It should be a productive day. Don't be deceived by the wine.  My lunches bring like minded people together and we get things done. Today's involves a discussion about voip network testing. Interesting I hear you say. Well you are right:)
Visibility outside is nearly down to zero now. I'm tempted to remove my Harris Tweed. It's quite warm onboard the train. Now pulling into Peterborough. Quite a few people will get on at this station. It's commuterland. No life, commuting from Peterborough. We pass a goods train in the siding. There is a driver in the cab so it is obviously waiting for us to go by. I like counting the wagons on a goods train. Don't ask me why. Maybe it harks back to when the kids were small. Maybe it's me regressing. Probs.
Yesterday afternoon a installed a new app to enable me to extract post content from philosopherontap into a word document. this is the precursor to putting together the "Book of 2016". Figured it would make the process easier if I could automate the process. Unfortunately the php version supported by the host is older than that required by the plugin so it doesn't work. Will have to consider my options. Copying and pasting 365 posts is not a trivial task.
Below Peterborough, as we approach the deep South, the early morning mist is lifting exposing black earth.  Idon't think it's a case of burnt stubble. Don't think they are allowed to do that anymore. Rhe soil is just dark. A few sheep graze in a field. Unusual for this part of the world. It's mostly arable. Where the money is.
The school back car park was chaotic yesterday afternoon. Someone had parked in a silly place and kept having to move her car back and forth to let others pass. Why she didn't just park next ot me at the side I wil lnever know. This caused a log jam and someone else reversed right in front of me whilst holding her mobile phone to her ear. In a school car park for goodness sake! I took a photo of her which clearly shows the phone to her ear and her face looking at me doing it. Not worth my while showing you the pic.
I'll save posting this until later. Be aware that i will have had some wine by then. Have decided that it's better to post at the end of the day instead of at the start as has been my recent habit. That way I can consolidate more than one post.
…
V good lunch. Ended about 6pm. We sat in the bar for a bit. Hit the tube to get to Kings Cross. Unbelievably busy. What's more the train out of Kings X was cancelled and there were several trains worth of people in the 1st Class carriage of the alternative 19.03 which was itself delayed. It was further delayed by the fact that the train was so overcrowded that it refused to leave the station until a load folk were offloaded. The fat bloke sats next to me got off. He had initially complained that I was sat in his reserved seat. F*&k him. There were no seat reservations. As soon as he got off we got going.
Got a taxi picking me up from Newark. There is a replacement bus service but it will only take me to Lincoln Central. I'll still need a cab from town to home. Lets not mess about.