relaxed 0
---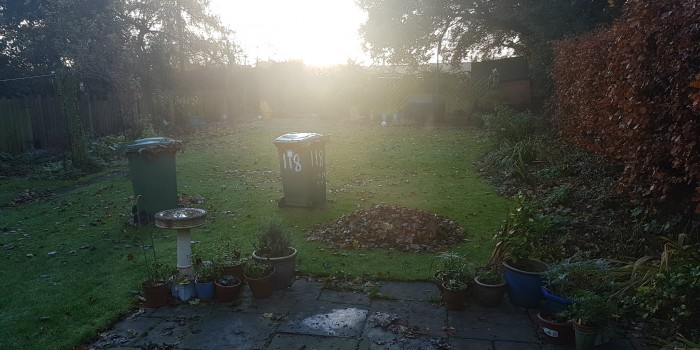 start to the day
Actually got up and made a pot of tea this morning just for myself. Anne is in Birkenhead at cousin Janette's. Today is Sarah's "centre's" Christmas Fair. Meanwhile it's just me and John again. Don't normally bother getting up to make tea if it's just for me. Also had the Farming Today programme on Radio 4. Normally we don't have the radio on that early. Bit of a treat.
We had steak and chips last night. John is off to Doncaster this afternoon to play hockey for Lincoln 4ths. When he gets back I have a chicken for dinner. Going to use the rest of Shannon's jerk rub and have it with a salad. Probs. This morning we have ingredients for a cooked breakfast. It's the weekend.
Fidel Castro just kicked the bucket btw. Fwiw. These diary entries need some contemporary reference points innit. Another major happening in a year of unusually bad news. Most news is too depressing to comment on. One good bit of news is the possibility that Nigel Farage is contemplating moving  to the USA. Good riddance. Occasionally thought about going on holiday to Cuba.
Christmas is coming up hard on the rails. Next weekend is Lincoln Christmas Market. Always the beginning of festivities despite being at the start of the month. Also been invited by Kevin Shaw of Wright Vigar to the Lincolnshire IoD lunch on Friday. I'm always knackered by the time Christmas itself comes along.
The guy didn't turn up to look at the Micra last night. Due at 4.30 I called him at 5. He was in Newark and now wasn't even setting off until 7. We have rearranged it to this afternoon "sometime". Better in daylight anyway.
Now on my second cup of tea in bed. Normally I only get one as the pot only does three and Anne gets the third. What luxury. Mind you I'd swap the cup of tea for a cuddle. It's the best time of day. Normally when I'm on my own I don't bother. Part of the making of the tea is doing something for Anne. Plus we take it in turns anyway, ish. When she gets back from her trips she normally says "it must be your turn" because she has had to make her own whilst away:)
John appears to have moved into Tom's old room. His bed was knackered so he took to sleeping in the double bed and using his bedroom to store clothes (largely on the floor). I'd do the same if I were him but it does use up our "guest" bedroom. He can always move back if we have visitors. Next weekend it will be in demand.
Just been texting with Anne. She had a night out with Cousins J and A last night. A is a teacher who has just walked into the head's office and told him she was going home and not coming back. Wow. The stresses of teaching are that bad! Not sure why kids want to go into teaching nowadays. Or medicine.
Had to switch the radio off. They were covering paedophilia in the football world. Shudder. Back on now. Gonna get up in a minute and stick the bacon on.
…
Excellent breakfast. Used some of the remaining home baked white for the fried bread and yesterday's wholemeal for toast. Heston's thick sliced streaky bacon cured in beer and maple syrup (or some similar combo) and Curtis' spicy Lincolnshire Farmhouse sausages together with a couple of chestnut mushrooms and a tomayto. It's 09.35 and now sat in the North facing living room where it is a little colder than the South facing kitchen but the settee is more comfortable. I have 21% battery left.
In other news the sink in the kitchen is a bit gunged up. Need to find out whether we have any unblocking stuff in. I'm sure I used up the last lot on the sink in the utility room.
A beautiful cold crisp day out there. WIll see what I can so to shift the last pile of leaves. I know I was talking about getting garden refuse sacks but I may be able to push the bins down a little more and squeeze the last lot in. It's what Anne would do:). Not sure I have any other jobs. She went off without leaving a list. Shouldaknownbetter:)
Saw a picture of myself in a school photo dates circa 68/69/70 ish. Was posted by Nest to commemorate someone's death. I don't really remember most of the folk from that school but it was amazing to see the pic.