live at the 0
---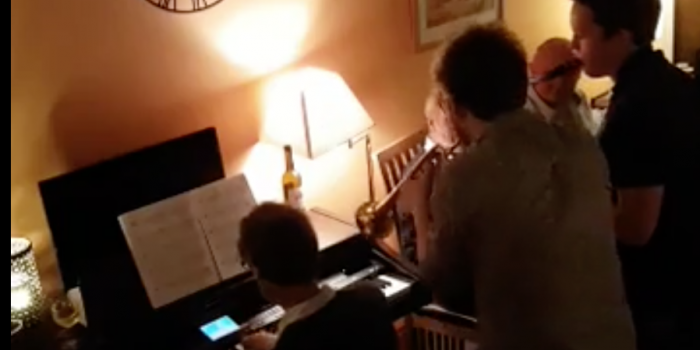 Wragby Road Bowl
Must be said I think that last night's Davies Christmas Market Party was the best to date which is saying something after 26 or so years. We had a good crowd of mostly regulars but with a few new faces to swell the ranks. Some folks cried off with manfly and simlar which is only to be expected at this time of year.
This was the first year the event was live broadcast, on Facebook. This had mixed results largely due to the difficulty of placing the camera in a decent position combined with the fact that Facebook live only works in portrait on Android phones.
We had two carol singing sessions with some excellent descant from the ladies present. There was also some wonderful jazz with Colin Dudman on the keys, Joe on horn and John on Sax. As a parent it gets you very emulsional to see two of your kids up there playing some fantastic music. They all got massive cheers. Finally we finished off with a short acoustic set by the Pylons which everyone really appreciated.
We had a very amusing start to the carol singing. Barney, the Pylons' lead singer whose dad is a vicar, agreed to sing the first verse of Once in Royal David's City. Unfortunately he sang it to the tune of Hark The Herald. We only realised at the end and had to start again:)
We got rid of the final lot at around 2am when a taxi arrived for Nige, Terry and Jenny. That's the latest finish for a long time.
This morning I cleared out the grate, scrunched up some paper and stuck in some kindling newly fetched from the woodpile at the bottom of the garden and the fire lit in seconds without the need for matches. Yesterday's hot ashes did the trick.
This morning has been mostly about sticking stuff in the dishwasher. I've had a fry up and Tom and I are now sat in front of a blazing log fire chillin a bit and typing stuff.
Today we start all over again. I'm meeting Terry in the Strugs at around 1pm before a 2pm lunchtime booking at the Taphouse And Kitchen. Looking forward to it.
10.45 am and  everyone has been seen except for John. Joe is playing some choons on the piano. Autumn Leaves, Have yourselves a Merry Little Christmas. Hannah is looking for a lift into town but there are no offers. It would take one of us the same amount to time to drop her off and come back as it would for her to walk in.
11.15. All the settees around the fireplace in the front room are now occupied and I even heard the word "John" coming from the kitch. We must all be up.