10 12 16 0
---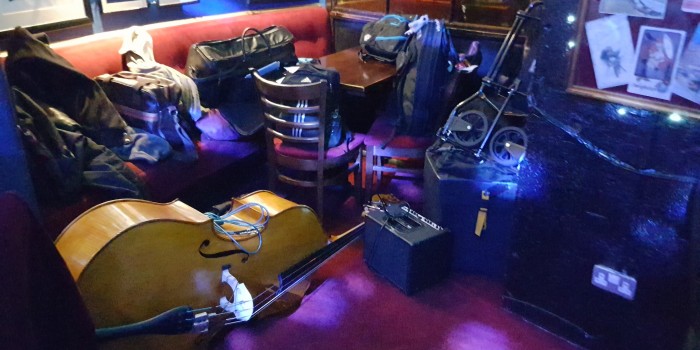 Titanic flotsam
It is 13.04 on Saturday 10th December in the year 2016 of the common Era. The train was supposed to depart at 13.03 and in fact is leaving the station right now. As I speak, metaphorically speaking. My Bose phones are on and I'm starting off with Hotel California. Feels right.
I'm going to take my time with this post. Probably jump about a little. The last three days and two nights have been one of those wonderfully memorable times.
Worth starting on Friday morning when we went to the V & A museum to see a wonderful temporary exhibition called "You Say You Want a Revolution? Records and Rebels 1966 – 1970". Recommended by one of Joe's lecturers. What a recommendation. Hugely inspiring. Made me want to step up the pace of "doing stuff". In one sense I'm sorry I left it until my late forties to start going public with my creative writing. You are at your most creative when you are younger.  On the other hand there's no point in worrying about it. Get on with it.
Hannah described this exhibition as the best she has ever seen. I have to agree with her. I'm quite impressed with Hannah. Whenever we have been somewhere and gone to a museum she has always taken a great interest in what's on display. That's when you realise that the child you have reared is no longer a child but an adult with a brain and her own ideas on things. I realised this when she and I visited the Louvre during our flat hunting expedition to Paris two years ago.
If you can get to this exhibition you have to go. Especially if you were around in the sixties. My first time in the V&A and will not be the last. We had a nice family get together there with most of the Lincoln Davieses, John not coming down until the afternoon, Ann and Sue and Terry. After the exhibition I bought two badges to sew onto my denim jacket. I never wear the denim jacket but I'm going to have to now. It's the only one "I" can sew the badges on to. One of them was a Beatles Rubber Soul badge.
Afterwards we had a drink and a bit in the cafe at the museum and sat outside in the courtyard. The weather was unusually warm. I was overdressed in my Black Yak fleece hoodie. The Piccadilly line was suffering "severe delays" dues to some maintenance work. This also resulted in overcrowding normally only seen in rush hour during the week. Not great considering I was dressed for Artic weather. We got off one stop early at Green park and walked along Piccadilly to Fortnum and Masons for an ice cream at the Parlour.
Fortunately I had booked. It was heaving. I had not been to F&M before either. A day of firsts. We had some great ice cream sundaes. I had a banana split. My face. Didn't see the point of having anything else when your fave is so good.
Before I forget there is an American girl sharing the table with us on the train. When she sat down she announced that she had just "been dumped" 10 minutes before getting on the train. Another chink in the curtains of life.
After the Parlour we all went our own ways and Hannah and I wandered around the shop for a bit before heading back to the Waldorf for a rest. Tom Joe and Anne got there at the same time and we crammed into our room. Not sure I've mentioned but it was my 55th birthday and there were presents and cards to open. The kids got me a copy of the Guardian newspaper from the day of my birth. 9th December 1961. Scanned it for an announcement of that fact but I guess it came too late to make the earlier editions.
The train is passing dull, winter coloured fields with hundreds of birds on the telegraph wires. Waiting to head South one assumes although surely this is a little late to be migrating. Maybe it's just a crowd of birds hanging out in a field on a Saturday afternoon.
Let's head back to Thursday night. Worra fantastic party. This was the 7th 'trefbash' in a row and another huge hit. The theme this year was What I was wearing when the Titanic went down. See the Google Album for pics and vids. Those that turned up in business suits were given kids inflatable rubber rings to wear. We went through 50 bottles of Laurent Perrier champagne and the bar bill was the usual "longer than the height of a human" impressive print out.
Apparently I was quite well oiled although I suspect most in attendance were in that condition. Joe brought his trumpet along and joined in with the band for a couple of sets. He was great and very much held his own. Got a lot of positive comments. He went off to Ronnie Scott's with the band afterwards. Home after kicking out time which I suspect is 2am. We Ubered it back to the hotel at around 1am. Could have walked but didn't feel inclined to mess about at that time of night, especially with my buoyancy aid in tow. Google album here including videos.
Breakfast with Manuel the next day. Discussed a bit of business for next year. Was a slightly sluggish start to the day but I was ok. Taxied between hotels – we moved from the Doubletree to the Waldorf. Left the gear with the concierge and headed to South Ken to meet the gang.
We finished the trip with a few drinks at the Waldorf before heading off to Cafe Pacifico. Ajax and Sue and Simon Forshaw and Nicky were off to China Town. We tentatively arranged to finish the night off at the American Bar at the Savoy but Anne and I didn't make it. We didn't hear from the others so I suspect they didn't make it either. The story from Cafe Pacifico was 4 jugs of Margaritas. We had only intended to have three but when I asked the waitress for another glass for Joe she brought another jug! We also ended up with one bucket of Corona (6 bots) too many as I ordered another without realising that we already had one on the floor that was untouched. Was a bit of a struggle to finish them all but hey…
This morning we had breakfast at the Waldorf. Was a little cramped for space but the food was a notch up from the Double tree. A walk around Covent Garden, a lounge around in armchairs back at the hotel and now here we are on the train headed Nowf.
…
15,53 Sat in front of the fire with a cup of tea aaaahhhhh.
Birthday day out pics here.