Dawn over Lincoln prison 0
---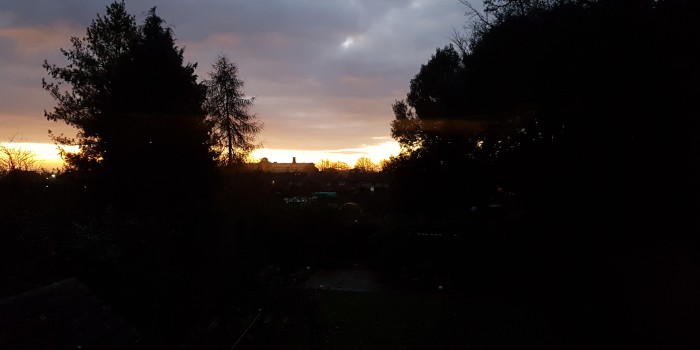 all present and correct?
Interesting dawn light over Lincoln prison this morning:) Not the sort of place you associate with art or beauty. In fact art doesn't have to be beautiful. The notion that those high walls are there to contain an evil concoction of badness is art in itself. We walk past in safety oblivious to the chain straining growling hounds within, volcanic red lava spewing from Satanic eyes, their gaze never leaving you.
Good morning all. A quiet day at home in prospect yay. I'm making a pork casserole for tonight's tea. May even have a go at another loaf. Rather hoping there is still some baguette left from last night to service a bacon and mushroom roll for breakfast.
There was.
Now listening to Aled Jones on Classic FM. Stress free. Cup of tea steaming on the table next to me. Anne pottering around the kitchen. Some post arrives. The Post Office is working overtime in the run up to Christmas. Fair play. A shiver of relaxation runs between my shoulders and down my spine.
It is exactly two weeks until Christmas. The preparations are moving up a scale. Actually they aren't. I've not really given it much thought other than gaining consensus that once more we will not be condoning the killing of a turkey but going for a bull instead. Probably sadder but that, my friends, is life. We are a carnivorous species. Omnivorous actually remembering that we like a bit of veg on the side of the plate.
I will be cooking Christmas dinner. This comes with a huge burden of responsibility, especially considering how much these large joints of beef cost. The beef has to be perfectly cooked. That means very much pink in the middle with even a hint of blood in there. The vegetables are of secondary importance but this shouldn't be considered permission to not get them  right. The roast potatoes should be fluffy to the right degree and I think there will also be glazed parsnips and carrots involved. Maybe even parmesan coated parsnips a la Delia.
The gravy is another important factor in the success of the meal. Really with gravy it is just a question of getting the ingredients right. Poor quality ingredients results in a substandard sauce. On the other hand you can over do it and have too strong a taste. I'm sure you can understand the pressure here. Feel it even. I'm a fairly good gravy cook so I'm sure it will be ok.
The situation is complicated by the fact that champagne will have been involved. Too much champagne before lunch and the enjoyment of the food is diminished. Your staying power is affected. The ability to sustain consumption of wine and brandy until well after the meal has been finished and everyone slumps on a sofa in front of the fire.
Looking around me I reckon we have sofa capacity for everyone. That's us six plus my sister Sue, Anne's sister Sarah and dad. We are lucky to have a house large enough to lose a few people in it and therefore there is the space for folk to not get on top of each other. Quite often when calling John to the table I have to physically go upstairs to his room or the attic to fetch the lad. Especially if he has his headphones on and is involved in a campaign of global domination or some such activity. There will be mass murder involved. Or an innocent game of football. I may be doing him an injustice 🙂
This year I will have to step up the pace on my campaign to improve my bread making skills. It would be nice if we were able to rely on just using home made bread. This is something I can make a call on at the last minute. Very handy that I can just rustle up a loaf in the event that we run out of shop bought stuff anyway.
In other news there has been a bomb attack on a football stadium in Istanbul. Why does the world have to be so full of dangerous nutters?
Gotta go now. A pork casserole to make. Featured image is "dawn over Lincoln prison".
…
Bugger. Overdid the par boiling of the spuds. The pork casserole however has turned out perfect. Mwaa mwaaaa.