The apple is still hanging on 0
---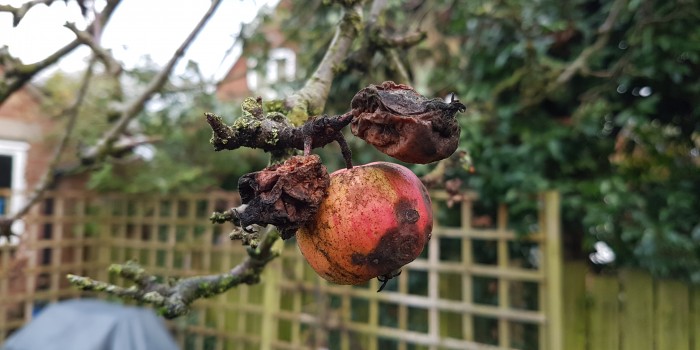 to dear life
Good kip. Woke up to hear that Trevor McCaskill the weather forecaster has died – yet another bit of bad news to add to the pile for 2016. We must surely be in for a bout of good news between now and new year. Maybe we will just switch off all sources of news. Trouble is people share these things on Facebook.
The consequence of a good kip is I wasn't up before dawn to write the diary so that's all you're getting for now. Gotta go for a swim and need to get my stuff together.
…
Hardly anyone in the pool. Had the slow lane to myself until the last five minutes. People get in towards the end to arrive early for the over 50s swimfit class, or whatever it's called.  Mostly very large ladies who spend their time chatting. Both men's shower still cubicles managed to find themselves occupied though so I went in the communal shower. Only problem there is I don't like to shave in the open shower. Not sure what people would think. So if you see me unshaven after being swimming you now know why.
Now I'm chewing my way through a bowl of fruit and fibre. Do have some jobs to do today. Gotta nip downtown to do some Christmas shopping. Maybe. Trouble is I can't find the right thing online. Rewind. Rang the shop. They haven't got it either. Ordered from Amazon with free Prime delivery.
Only 12 more days to go until Christmas yay. Had a Facebook video call with sister Ann in Holt and a chat with Dad. Cleaned the grate out and brought some more kindling in but probably won't use it today as we are off out tonight. May not need it now until Sunday. It's not cold.
There is no bread to make a sandwich for lunch. I am making some more but it won't be ready in time. Still on its first rising. This time I'm using a Paul Hollywood recipe. Replaced a knob of butter with 40ml of olive oil and giving it a longer initial rise time. Let's see if it makes a difference. This is something we have to crack:)
Outside we are heading into deepest winter. This isn't snowbound icy wastes of winter. It is miserable neither here nor there insipid colours everything has stopped doing anything for winter winter. The evenings are the best bits at this time of year. Fire crackling in the grate. Welcoming lights inside the pub. Chinks of glasses etc. I see a small bird diving occasionally into our beech hedge. Assuming it nests there. It's too fast for me to spot its plumage. We have had wrens, robins and hedge sparrows in there plus I suspect blackbirds. At least the bronze plumage of the hedge appies a bit of contrast to the insipid yellow green of the rest of the garden.
It's 12.47 and it already feels darker out there. A gentle drizzle has started to brush the conservatory roof. It isn't a drum it's a brush. A very gentle tapping of the finger tips. I'm glad I'm not a wild animal. Ok they don't know any different . I like the idea of popping out to the ub for a couple early doors. Wild animals don't do that. They don't play the piano or listen to jazz on Spotify. There are too many things that they don't do so I won't/can't list them all. Pretty much everything really. What they tend to do is get eaten by other wild animals. It's a wild animal eat wild animal world. A bit like being a human but totally different.
The lunch issue still needs resolving. I will need something inside me before heading to the Wright Vigar Christmas drinks reception at 5pm.
Like it or not this is a time of death and decay. The hedgehog that appeared dead on our front lawn is still there. At least physically. Mentally he has totally gone. Gone to the place where hedgehogs go when they die. I don't expect any hedgehog has ever given it a thought. Otherwise we would see hedgehog religions all over the place. The unknown over why we are here and what happens when we die seems to be why most people turn to religion.
Meself I'm just riding a wave. Trying to stay balanced for as long as possible before being engulfed by boiling waves, dragged under and shipped out to sea for my limp, lifeless body to be torn apart by sharks in a short frenzied attack on just another piece of carrion. They know not what they are doing. Don't waste that life. Learn to surf.
Wake up and smell the coffee, or some totally random and unrelated saying. What's your favourite saying?
Check out the featured image of the same apple from only a few days ago.