Picture by Scott Murray 0
---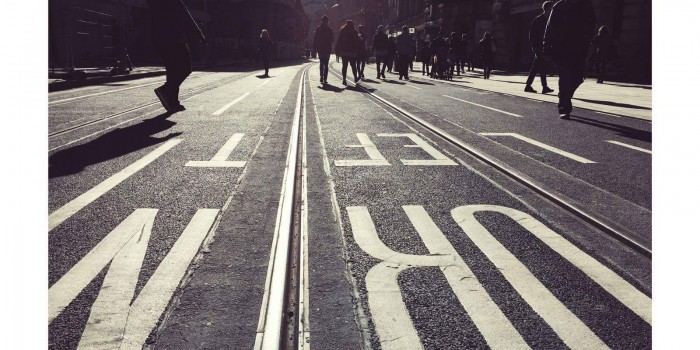 going off the rails?
At some point in the Eighties the artist, musician and writer, Bill Drummond hatched a plan to stand on a manhole in Mathew Street in Liverpool (home of Erics and The Cavern), while at the same time the bands he managed, Echo and the Bunnymen and The Teardrop Explodes would perform in Iceland and New Guinea. 'The Reason?' as Bill explains in his book '45' – 'This was pretty unfocussed, but had something to do with harnessing the powers of the interstellar ley lines for my own personal gratification'. It didn't come off due to complications with Julian Cope being too off his mash to be communicated with and The Bunnymen being too good at pop music to bugger about on a whim.
Bill has been a direct and subliminal influence on my artistic life for some time. His words, music and correspondence have pushed me to do things and create art that I would have previously dismissed as a daft idea. I've thrown paint at a wall to the sound of 'Song 2' by Blur, I've made a radio show that was also turned into an exhibition by visiting randomly selected grid squares from the A to Z  map of Lincoln. I've set up the National Leaning Helpline – 0844 487 8464, and most recently I've dug a hole somewhere in the UK and buried £100 in cash for anyone to find via the Buried Treasure Podcast.
For some time I've been wanting to do something with lines, Interstellar Ley or otherwise. The usual one page of Google research done and the 'ley line' thing is too mystical for me. I like the idea of creating lines rather than interfering with forces I don't understand.
I'm already working on a project to gather musicians at different churches in Lincolnshire and record something dedicated to a medieval Church that burned down. Lines will then be drawn between the churches and displayed at St Georges at Goltho. If you are a Timpani player let me know, I'd like you stand outside a church and bang your drum please.
This picture was taken on Cross Street in Manchester. Time could be spent trying to find connections to Cross Street in Lincoln, but we can take this opportunity to create something new rather than trawl the internet for something tenuous.
At some point soon the photographer will find a manhole on the pictured street and stand on it while at the same time I will stand on a manhole on Cross Street in Lincoln.
What we will do and how long we will do it for, while stood on the manholes remains unfocused. There is a good chance it will involve keeping an eye on traffic. No suggestions please. We also don't know how we will explain our actions to our loved ones as we leave the house, let alone passers-by. We will however have done something that we would not have done without the Picture Paints 500 Words project taking place, something unique.
Paul