chicken casserole 0
---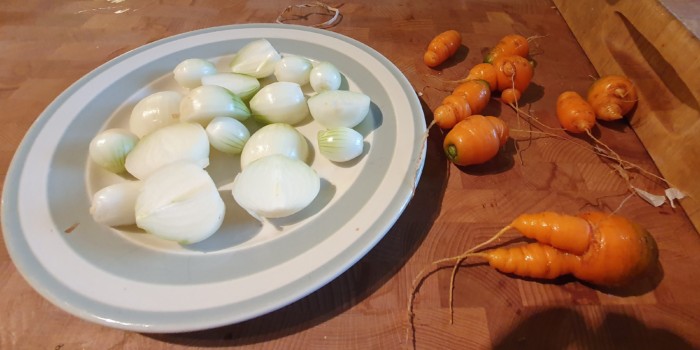 Relaxing start to Sunday. Two cups of tea in bed. Fullish English (no egg). France v Tonga on telly. Chicken casserole prep (fiddly onions).
Rain. Yesterday's outdoor efforts vindicated: lawn mown deck oiled. I daresay there is an indoor jobs list today. Anne needs some cranberry juice. Check if curtain pole repair has worked (remains to be seen – less than 50:50 I'd say). Upstairs the rowing machine sings.
Bookshelves in front need filling. Two hundred books this summer consigned to the loft. Cut not made.
I find cooking very therapeutic. There is a difference between cooking in the morning and preparing a roast, say. A casserole deserves to be started early and given time to slow cook. The one time that cooking is stressful is Christmas Day where the timing is everything, the food more complex (parmesan parsnips, honey roast carrots, carrots and swede and the rib of beef where the right level of pinkness is paramount). Christmas also requires the right timing for the champagne – starting too early marks trouble.
Enough of this ritin stuff. A casserole doesn't prepare itself.