Christmas 2019 0
---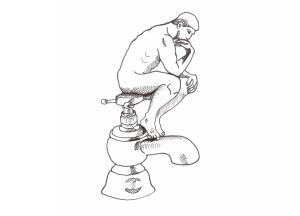 It's Sunday morning. I've cooked breakfast and am now sitting in the front room with a cup of black coffee. Espresso actually. Probably more coffee than is sensible. The choir of King's College Cambridge is providing relaxing background music with their extensive repertoire of Christmas carols. Still ten days to go but hey…
Anne has gone to church leaving me with the sole job of putting up the outside lights. I'm not a big fan of outside lights at Christmas but Anne likes them and these are reasonably discrete. The other job on the list is one I don't consider to be a job and that is shopping at Waitrose. I like shopping at Waitrose. I find it relaxing. I will have all this done by lunchtime, by the time Anne comes home.
The run up to Christmas is very hectic. We are extremely fortunate in having lots of nice friends with who we have a routine leading up to the big day. Our own Christmas Market Party, trefbash in London, the Wards and the Brittain's parties and then with the kids home the countdown to the 25th December: the big shop, picking up the meat, the Morning Star Carol session, Christmas Eve spent quietly prepping the food for the next day and maybe a couple of beers early doors in the Morning Star or Strugglers before dinner.
This year the vote for dinner on Christmas Eve has been takeaway Chinese and Indian. People get to choose one or the other or indeed a mix of both – crispy duck starter and lamb balti main for example. It works. Anne will go to midnight mass and I will probably be in bed by the time she gets back.
Christmas Day itself is far more civilised than in the years where the kids were small and woke up ridiculously early to see if Santa had been. Present unwrapping would have been a frenzy of flying paper with us parents trying to keep track of which child had been given which present from which relative. Now we have to get them out of bed. The present opening still has an element of flying paper but it is far more controlled.
Breakfast is traditional with every individual choice catered for. I especially like tinned grapefruit segments on Christmas Day because I remember having them when I was small.
I will probably delegate the job of lighting the fire to a responsible adult whilst I take charge of the kitchen and the preparation of Christmas lunch. We usually have a rack of beef with trimmings by request.
Before lunch we usually have people round for drinks. After lunch we are fortunate enough to have a sufficient quantity of settees for everyone to be able to crash. This year we have the Queen (as in Freddie Mercury) DVD to watch as a family. Games tend not to be on the menu much to Anne's disappointment. When she was a girl at home the Websters always played games. We Davieses never have the energy left to do this. It is one of my (few) regrets in our marriage that I fall short at this benchmark of husbandly qualities.
This year on Boxing Day we are again off to Holt to see the rest of the family: the Cooksons and Dad and Sue and then Aunty Pat and Uncle Ted. Good times.
2019 has been another action packed and eventful year, perhaps more than most. It seems to have been peak year for globe trotting. Anne and I flew to Hong Kong for New Year's Even followed by ten days or so in Thailand. Hong Kong was fun but bitterly cold. This is something we hadn't planned for. Our suitcases were full mostly of shorts and tshirts ready for the tropics. We survived.
The rest of the year trips to Reykjavik, Toulouse, Rotterdam and Amsterdam (one long series of conferences), Moscow, Barcelona, the Isle of Man, Washington DC, Antwerp and Brussels in no particular order. There have also been many trips around the UK. It's been a hectic but memorable year.
Particularly to the fore of our collective memory was the cancellation of the Beyond The Woods festival due to high winds that could have proved dangerous to the public. Many other events were cancelled that weekend and the weather didn't let us down, so to speak. The decision to cancel was the toughest business decision I/we had ever had to make. It was outside both our experience and comfort zones. It wasn't taken lightly. We sounded out many sources of authority and advice before pressing the button.
The irony was that on theThursday, where the number of volunteers on site helping with the build was at its peak, the weather was idyllic. At lunchtime we assembled everyone in a marquee and Tom gave everyone the news. The mood was very subdued. People had worked on this project for a year and the excitement levels were at a peak.
I have to say I was very proud of the way the whole team handled the situation. I won't name them but they know who they are. After a break for lunch everyone got on with the job of undoing all the work they had been doing and the core team continued the process of informing artists, vendors and other contractors and suppliers that the gig was off.
By 5pm everyone was emotionally exhausted. We all downed tools and began to party. That night ranked as one of the best parties we have ever had. Everyone released their pent up emotions and danced.
The festival has moved on and planning is well under way for 2020 when we expect put on a bigger and better than ever show.
Our year as a Davies family has been highly successful. Our children are all giving us reasons to be proud of them. I won't embarrass them individually.
The year has not been great for everyone. Friends have experienced personal tragedy that has affected the whole community. Sometimes things happen in life that are difficult to understand end even harder to cope with. Our thoughts go out to them.
It is sometimes difficult to reconcile your own good fortune with the bad luck of others. It reinforces my own philosophy of getting as much out of life as possible whilst we still can.
So as we approach the holidays I'd like to everyone best wishes from the whole Davies family. May Santa bring your heart's desire and may 2020 be a wonderful year for you.