Philosopherontap Book1 – The Abandoned Sandy Shoe and Other Chinks in the Curtains of Life
---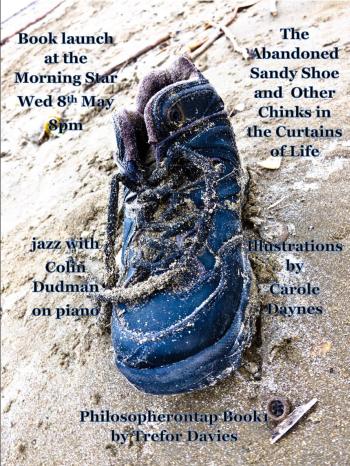 "Philosopherontap Book1 – The Abandoned Sandy Shoe and Other Chinks in the Curtains of Life" is being launched on 8th May at the Morning Star pub in Lincoln.
The event, which includes entertainment from internationally acclaimed jazz pianist Colin Dudman on the piano, is free of charge to attend although you can purchase a ticket which gets you an advanced order for a copy of the book which will be available on the night. You can also optionally make a donation towards the cost of the night. Donations of £10 or more will also receive a print copy of the book.
The book is going to be made available in two formats:
The eBook will have approximately 220 pages containing 187 pieces and will be available for download from all the main online publishing platforms at a cost of £2.99.
The print version is printed on demand and will also be available online. This version contains a subset of the eBook content with 44 selected pieces and will have fewer pages but will be ideal for people who still like to have a book in their hand. The cost of this version for delivery on the night will be £8.00 plus a small Eventbrite handling charge.
The Abandoned Sandy Shoe and Other Chinks in the Curtains of Life consists of observations, mundanities and maybe some deeper reflections. Many of the posts come in the form of poems. Many thousands of people write poetry but books containing poetry don't sell millions of copies. It is also easy to find "poetry websites". There is a lot of material out there. Having spent some time looking at this material the vast majority of it isn't to my taste. I'm careful not to say it isn't any good because one of the things about poetry is that it is often very personal to the author. Often written for the author without consideration of what others think of the writing.
I like to think that Philosopherontap is different. You shouldn't look at this work as a book of poems. Apart from anything else many of the posts are not poems or do not fit into what classically might be considered poetry. All of the posts do provide the opportunity to stop and think. They are pieces to sit there staring at and not necessarily ones that would benefit from being read out loud to you by me. "Norfolk" for example is too short – ridiculously short some might consider. The "Function Room is Back" however, with more of a narrative to it might be worth listening to.
Some of the posts in this book fit with my philosophy of immediacy. We live in a fast moving internet dominated world where quick fixes are the order of the day for audiences with short attention spans. Some posts are therefore quick brain dumps and of the moment. Others such as "Sad Music" took me days to write. That one was important to get right for reasons you will understand after reading the poem and its accompanying spiel.
All of the posts in the book are available to read free of charge on this website. If you buy the book, however, you get the benefit of additional insights on each post – what the particular piece is about, perhaps what I was doing at the time or other comments. People ordering in advance for collection on the night will receive a signed copy and avoid paying the postage charges.
Order in advance for picking up on the night here or use the form below. eBooks can be ordered from the 8th May onwards. Hope to see you on the 8th:)